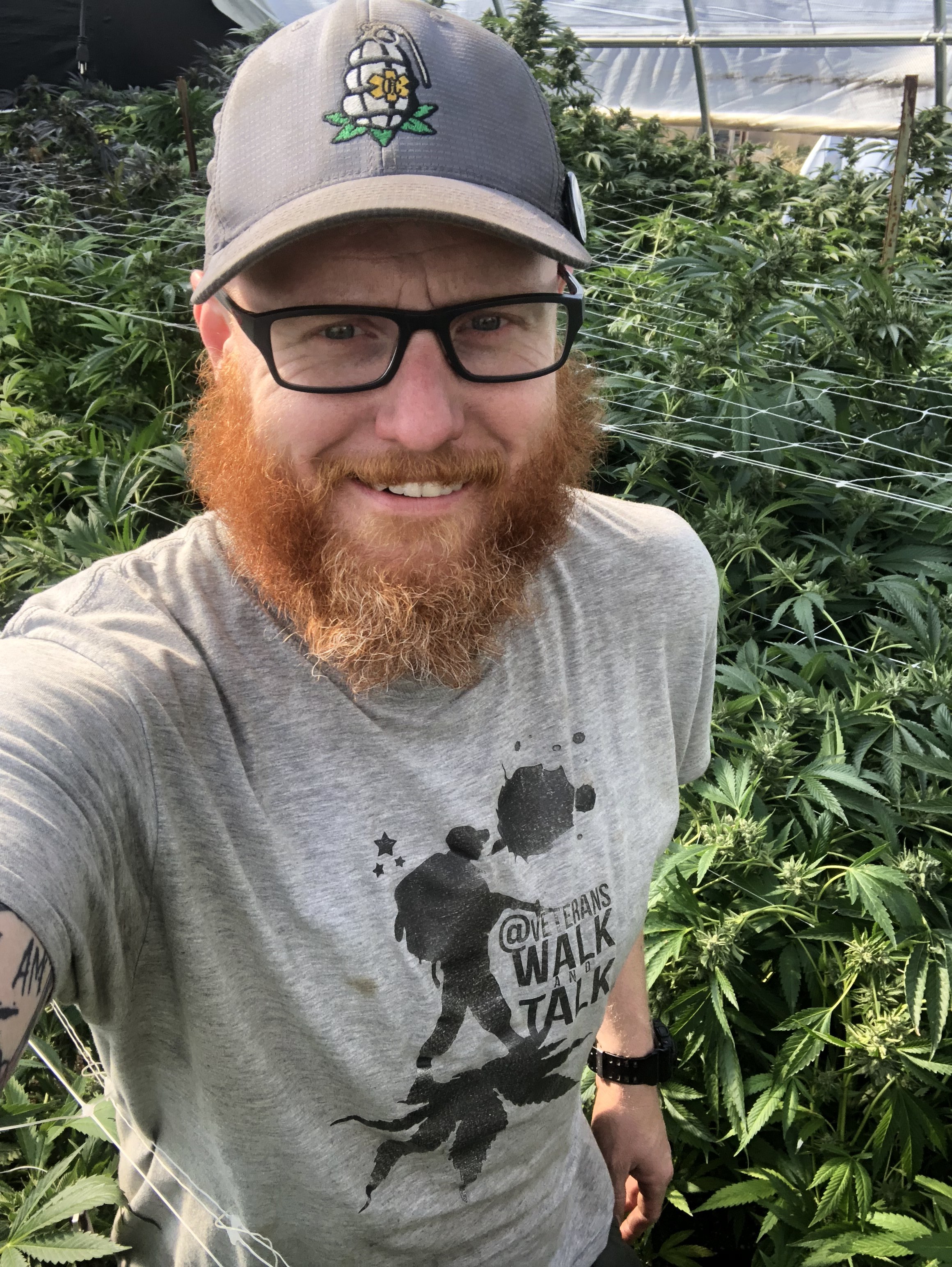 Colin Wells | Founder; Veterans Walk and Talk
Colin Wells is a courageous man. Forget for a moment the courage he displayed fighting the nations enemies while deployed to Afghanistan during his military service. Forget the courage it took him to fight his demons and addictions after departing from the Army. And forget the courage he displayed to pull himself up from homelessness. Colin Wells' newly summoned courage is focused on being at the tip of the spear dismantling the stigma surrounding veterans and their relationship with marijuana. It's due to the medicinal benefits of the cannabis flower and the compassion he received from the cannabis community that Colin attributes his recovery.
Today he leads Veterans Walk and Talk, a Los Angeles based veteran's alliance that tackles the trails in and around the city each Sunday morning. Together, veterans share a smoke, a few stories, and a camaraderie they can only find among other veterans. His passion has turned to helping fellow vets find the same peace he's found. To do so Colin recognizes that legal reform is necessary.
"Cannabis allows us to take control of our own health in ways never offered to veterans before. We know better than anyone what it means to be of service. Taking the reigns of cannabis reform is a guiding north star that we can easily follow." Wells says, "We are losing our brothers and sisters and it's unacceptable. Cannabis helps us get back to doing the things we love thus allowing us to enjoy our lives again. We are passionate about sharing that with as many other veterans as possible."
Understanding that some veterans are hesitant to come forward as "marijuana users," Colin advises, "I would ask them what lengths they have already gone, or are willing to go, to enjoy their day again? The perceptions of others won't matter when they see a happy and healthy person where there was once a ghost. Enduring the stigma of cannabis use pales in comparison to enduring suicidal thoughts every waking second."
It takes courage to lead a movement but Colin has surrounded himself with allies and he's always looking for more. Colin says veterans in states where cannabis is still prohibited "…can advocate and educate. The Veterans Cannabis Coalition @veteranscannacoalition is actively working on this issue and they need advocates to put in work all over the country. @veteranswalkandtalk is also opening up chapters all over the country. Just by showing up once a week and walking together we can show unity behind cannabis. We know it works. We fought for this country, now we need this country to listen when we say cannabis works."
"She needed a hero, so she became one." Lulu Gonzalez embodies this mantra. A survivor of many of life's setbacks, the young National Guard veteran is on a crusade to help female veterans gain access to mental health resources and medicinal cannabis. Since 2016 Gonzalez and her partners have grown the Lady Veterans Project into a sisterhood for Southern California's female veterans, many of who choose cannabis as their preferred medicine over prescription pills.
Unfortunately for Lulu, the need for self-medication was due to many of life's hard knocks. When asked how she came to see cannabis as her medicine of choice, Lulu points to one of the sources of her trauma, a sexual assault she suffered early in her service.
"I didn't know any other way to deal with it than to act like it didn't happen. I blamed myself and drank excessively. I was working at my dream job at-the-time as a full time federal technician, and my drinking became a problem." When she discovered cannabis as an alternate to alcohol and prescription drugs to cope with her trauma, everything changed. "I found cannabis through another female soldier who had been using it for years. She said she didn't need to drink because cannabis helped her sleep and feel relaxed. So I tried it, and I enjoyed it."
At the Lady Veterans' Project's (420 friendly) monthly meetings, the ladies in the group share similar stories knowing they're in a safe place where their unique experiences aren't that unique. Together they lean on each other to overcome the many hardships veterans face after leaving the military. "I became an Advocate for cannabis when I became more involved with my community and my veterans, it's powerful to see how cannabis works!" Gonzales remarks. "Cannabis doesn't cure PTSD by itself. Mental health is our main priority, but our medicine is second."
Lulu and members of the Lady Vets Project are working with other veteran's organizations to encourage legislators and the VA to conduct research and ensure veterans nationwide have safe-access to the medicine. "Cannabis is a tool in our tool box with more benefits than just relaxing. Users should maximize the benefits by learning more about cannabis themselves."
While California enjoys liberal cannabis laws, Lulu understands that not all veterans are as fortunate. For those living in states without safe-access to cannabis Gonzalez advises, "Don't give up the fight! Keep sending letters to your Congress and speak up about how [cannabis] has helped you."
"Plant based therapy," is how James Cruz describes his new career with VetsLeaf. "I enjoy growing cannabis because it gives me something to care for beyond myself; I have to keep them alive." A smile appears on his face as a strange correlation occurs to him, "It's the same principle as keeping a fire team or a platoon alive; you have to consider everything."
It may sound like a stretch to compare lethal warfighters to an herb steeped in taboo, but for Cruz, both are a labor of love. Cruz served as a Field Radio Operator with the United States Marines and deployed to Ramadi, Iraq in 2003 where he earned a Combat Action ribbon and a Purple Heart. After returning and separating from the Corps the Veterans Affairs Administration diagnosed Cruz with Post Traumatic Stress Disorder amongst several other ailments. His discussions with the VA were brief and uncomfortable. "The pills they prescribed turned me into a zombie."
Cruz shares a sentiment echoed by others who have dealt with the VA, "They wanted to drug me and get rid of me." While taking his prescribed pharmaceuticals he continued to struggle, "I would wake up sometimes and walk my perimeter with my dogs," he smiled, "but cannabis helped me understand why I do it."
James was introduced to cannabis five years after his discharge and says it, "gave me an abundance of awareness." He received his medicinal marijuana card in California and in time was able to eliminate the pills he'd been prescribed. Cruz educated himself on the medicinal benefits of cannabis and found, "Sativa's in particular, allow me better critical thinking and problem solving. I'd have been a zombie without it."
Indica strains gave him relief from his insomnia and allowed him to "dream again." James states that before discovering cannabis he didn't recall his dreams adding that when he slept, "…it was all just black. Because of cannabis I finally feel well rested."
Cruz has been a gardener with VetsLeaf since January, 2018 and is an integral part of the cultivation team. VetsLeaf hires veterans like James because they possess an innate work ethic, leadership ability, and attention to detail that the company appreciates in its employees. Through his hard work in the VetsLeaf greenhouses, James exemplifies all these traits and more, and like the phrase "Once a Marine, always a Marine" states, James Cruz upholds his core values today and always.
William Anthony Rose | January 15,1973 - March 6,1993
My father's name is William (Bill) Anthony Rose and he passed away while in service to the United States Marine Corps when I was a year old. His life was difficult, but he did not let that get in the way of pursuing his goal of someday becoming a police officer. He joined the U.S. Marine Corps because he was determined to prove himself an upstanding citizen. Although I never really met him, I remember him. And, I live by many of the things he said which have helped me through my young life, my college years, and my graduation from college a few months ago. Bill lived a harsh childhood. He was raised in an abusive single parent household (not much is known about his father). When money was short, because of parental gambling problems, Bill took on the parental responsibilities and worked at a farm and took care of his younger brother Marcus. Even at a young age, Bill worked hard to take care of anyone he called family. And although Bill did not do well in school, (and he may or may not have gotten into trouble), he persevered. He attended continuation school where he was able to receive the credits needed to then join the U.S Marine Corps. Because of my father's sacrifice, I was able to spend my entire life as a student, and I found college to be stressful but it is nowhere near as stressful as serving in active duty as a Marine. If Bill had half the resources and support that I have, he would surely have done better in school, but I whole heartedly believe his goal was achieved through me. I graduated with a Bachelor of Science in Environmental Studies with a Minor in Geographic Information Systems from California State University, Sacramento. I would not have made it as far as I did without the GI Bill my father's service provided for me. With my education, I will be capable of contributing to a cleaner environment to better the living conditions for others. I graduated a few months ago, thanks to my father Bill Rose, and I am determined to make my father's ultimate sacrifice count for us all.

Written by Donovan Rose, son.
Stephanie Allison | When War Comes Home
We dedicate this months "Hero" page to Veteran Caregivers who have survived life with post war veterans. VetsLeaf is dedicated to serving not only veterans but their families as well. Please help us help our veteran communities.
I married in 2002; a Force Recon Veteran. I knew he had come from a traumatic childhood, as well as that, he had war wounds in his soul from 18 months of combat in Somalia. He was committed to therapy and sobriety through the VA, and I believed that he would always take his mental health seriously. He had full custody of his four year old son. He loved his son, fly fishing, football and me.

It was Veterans Day 2003 the first time he went out all night. I reported my car stolen, and using OnStar and a SWAT team, pulled him over to check on him. I was so worried. What stands out from those early days are instances of alcohol combined with medication. There were terrifying moments of being yelled at, in front of my baby daughter. We decided to leave Seattle and follow his dream of Division One football coaching. I was pregnant with our second child at that time. We did three states, with three kids, in three years, and he made it to his dream ... After a grueling Graduate Assistant year in 2007, the night before he was actually to have landed his dream, he blew up on the coaching staff, went missing in New Orleans, and was subsequently asked to not step on the field for the upcoming Georgia/Hawaii game. His Division One dream was crushed. We filed for bankruptcy.
The next seven years we ran a fly fishing business in Hawaii. Sounds dreamy. It had its moments. Finances are always a problem when money is spent erratically. His philosophy was "at least there are no bullets flying at us." This was a pretty low level of life expectation I came to realize. There was a lot of alcohol in the fishing world, and Hawaii is full of drugs. Cocaine was his choice.

The oldest son suffered. Hard having a veteran with PTSD who was addicted to cocaine ... The son did three stays in rehabs before he was 21. I witnessed my husband experience cocaine psychosis; extreme paranoia regarding neighbors and me. Mostly revolving around sex. He'd tell a therapist I was wearing vibrators and I did not know it. There might have been mania mixed with the PTSD. I will never know.

Lost keys, broken phones, and a missing wallet. Fights with neighbors, police at the house, more therapists, another SWAT team, Child Protective Services, a runaway son, and Mom being thrown out of the house repeatedly. Total chaos constantly for the whole family. My daughter was now 14, and seemed to be a high risk teen. In the end of June 2016 he actually shot up our house with his pistol seven times thinking that a cult was coming to get him. My 11 year old son was in the house. At the time he was working at the gun range of the Marine Base in Hawaii.

The day prior to shooting up the house I had flown with my daughter to Seattle to get away from the escalating situation. When he shot up the house we blatantly qualified for Domestic Violence services. The military would not help me or the kids because we were not in the same state as the veteran. We lived in a shelter for 6 months, qualified for a free lawyer service so I could file for divorce, and won a housing lottery within the Seattle city limits.

I am a hero to the countless women that can not get out of their situations. I already had a degree, a professional certificate, and a wide circle of supportive friends and family. I am a hero to my children for putting them first every day for the past 16 months. At one time I was also his hero until he turned against me. #WhenWarComesHome
Aaron Augustis served in the US Army as a Combat Engineer, Team Leader Sergeant. He enlisted June of 1998 from his home state of California. He deployed to Mosul, Iraq in 2003 with the 37th Engineer Battalion Combat Airborne out of Fort Bragg, NC. His experience in Iraq led to him his current efforts of advocating for Veterans to have access to medical cannabis for their service connected disabilities, especially combat PTSD.

When Aaron redeployed from Iraq he underestimated the transition from military life to civilian life.

"In Iraq you have to suck it up and contain your emotions so you can complete your daily missions without getting yourself or your team killed. I felt like a soda bottle that was shook up constantly for seven months, then put back on the shelf and left to explode. You have to bottle up your emotions while on deployment, and eventually those tucked away feelings come exploding out uncontrollably. Cannabis helped me calm down from my intense and very stressful experience. After smoking I was able to relax and calm myself enough to realize that I was in California and that everything was OK. I was not in a hostile war environment anymore."

Aaron founded the Veterans Cannabis Group and helps educate, network, support, and be a resource for our nation's Veterans who use medical cannabis. Through the Veterans Cannabis Group, he has formed partnerships with other cannabis businesses and groups to ensure that Veterans have an opportunity for employment. Aaron helps to employ Veterans through Hard Car Security; which provides security and armored transportation for the cannabis industry. Veterans are a natural fit for this type of work because of their combat military training, and recent 'boots on the ground' experience from Iraq and Afghanistan.